Jeunesse Goes Greener – Our Commitment to Salon Sustainability
We simply love green and decider to  go greener by joining the drive to be sustainable.
We are the first medical clinic/ medical spa in the Waikato to do this and over the last 3 years have reduced our landfill waste by 90%.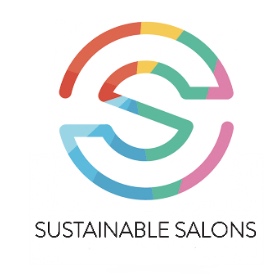 We've always been recycling as much as we could but due to council restrictions, previously we were a bit limited.  We partnered with Sustainable Salons to find recycling solutions that benefit the environment and even more exciting give back to the community. For example, our plastic packaging, product boxes, and glass vials will be recycled into new products and kept out of landfill and the ocean.
The icing on the cake for us is that all proceeds from the recycled materials will go to help feed New Zealand underprivileged via KiwiHarvest, a charity that rescues perishable good food before it goes to waste, distributing it to those in need to nourish the wider community.
Here are some of the changes that we  have embarked on  our sustainability journey:
 Information charts and signs around the clinic on sustainability.

Recycle Bins  Each room will have desktop bins to help separate out plastics, paper and glass together with our biohazard bins which are essential for medical waste. Our larger bins will be kept out of sight.

Black Bio Gloves!




Normal medical-grade gloves last over 100years and some are part plastic so may never truly break down. As a medical practice, we go through boxes and boxes of gloves! You will be seeing us in black gloves soon These biodegradable gloves although not perfect break down in 1 to 3 years depending on the environment or landfill they are disposed into!

Green Service Fee –

As of the 1 December, we will be adding a $2 green fee to your bill so you too can contribute to this process and help us reduce waste and feed more underprivileged people.
Here's a brief summary of where the $2 green fee goes!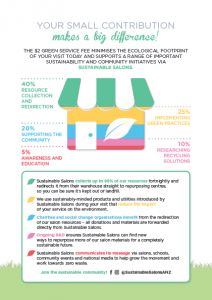 The best part is that now while you look good you can do good too!