Platelet Rich Plasma (PRP) Therapy For Hair Loss
Everyone loves having their own head of hair! We love to cut it, colour it, curl it, grow it, straighten it, braid it, twist it…Our hair is like our personal crown. We all shed approximately 100 hairs per day as part of the normal growth cycle. So when we notice more hair loss than normal in the shower drain, increasing scalp visibility, a thinner ponytail or when our hairline appears to receding, it's no surprise that it can be panic strikes.
Millions of people – both men and women – struggle with hair loss.The reasons for this vary and can include disease, genetics, stress and hormonal imbalance. Whatever the cause, everyone wants a solution and to enjoy a full head of hair.
Hair loss in men is almost an inevitable effect of aging that most men cannot escape. Some are affected earlier than others but in fact almost every man will likely face hair loss as the year's pass.
For women, hair loss can be absolutely devastating. A woman's hair can define her whole look, feel and style. As any woman who is suffering from hair loss knows, thinning hair is a serious problem that can cause low self-esteem and deep embarrassment if left untreated.
New technology and progressive treatments can offer permanent, effective and organic solutions.
At Jeunesse MedSpa®, we treat each patient  individually. We offer a comprehensive hair restoration programme  that are scientifically based and FDA approved to stimulate new hair growth and follicular thickening.  We begin with an initial  evaluation, and then discuss treatment options including lifestyle changes, medication and Platelet Rich Plasma (PRP).
It's a fact that men as an  inevitable effect of ageing cannot escape significant hair loss. Some are affected earlier than others but in fact almost every man will likely face hair loss as the year's pass. Our simple non surgical treatment with PRP can reduce the hair loss and stimulate  hair regrowth.
Millions of people all over the world are affected by hair loss.
There are many types of hair loss, otherwise known as alopecia. Fortunately, most of them are mild and slowly progressive, but some are more aggressive and even irreversible.
The two most common causes of hair loss that we see are female and male-patterned hair loss and stress-related hair loss.
The following are some causes :
Alopecia areata (female pattern baldness)
hereditary androgenetic alopecia (male pattern hair loss)
Stress
Fungal infections
Autoimmune disorders like Lupus
Traumatic damage (such as compulsive pulling or tying your hair too tightly )
Nutrient deficiencies- iron deficiency
Hormonal imbalances – thyroid and PCOS
Chemotherapy
Blood tests may be needed if the doctor suspects a medical illness and may include:
– Iron
– thyroid function
– hormone testing including oestrogen , testosterone , progesterone , cortisol
– auto immune profile
Stress or age-related hair loss are not easy to treat as it is nearly impossible to completely eliminate stress from your life or slow down the natural aging process. At Jeunesse MedSpa® we have   developed a system to slow down the hair loss process AND re-grow hair
Treating the common causes of hair loss usually Combination treatment is ideal and includes:
Supplements: We will be able to recommend clinical-grade supplements that have been proven to work including iron
Topicals: We are able to recommend specific clinically-proven topical hair restoration products that you rub into your scalp
Oral medication If you have hormonal imbalances as shown by the blood tests , oral replacement may be necessary including thyroid
PRP Hair Restoration Treatments This procedure has emerged as the best non-invasive hair growth solution available today. It involves injecting your own blood into areas of hair loss in order to stimulate growth in these hair follicles
With stress-related hair loss, your hair usually grows back once stress levels are reduced. We recommend including proven stress reduction techniques, such as exercise and meditation into your daily routine.
Age-related hair loss can be both permanent and progressive, therefore your treatment needs to be more aggressive.
Treatment of Some Less Common Reasons for Hair including pathological causes usually involves a multi-step treatment plan and you may be referred to an appropriate specialist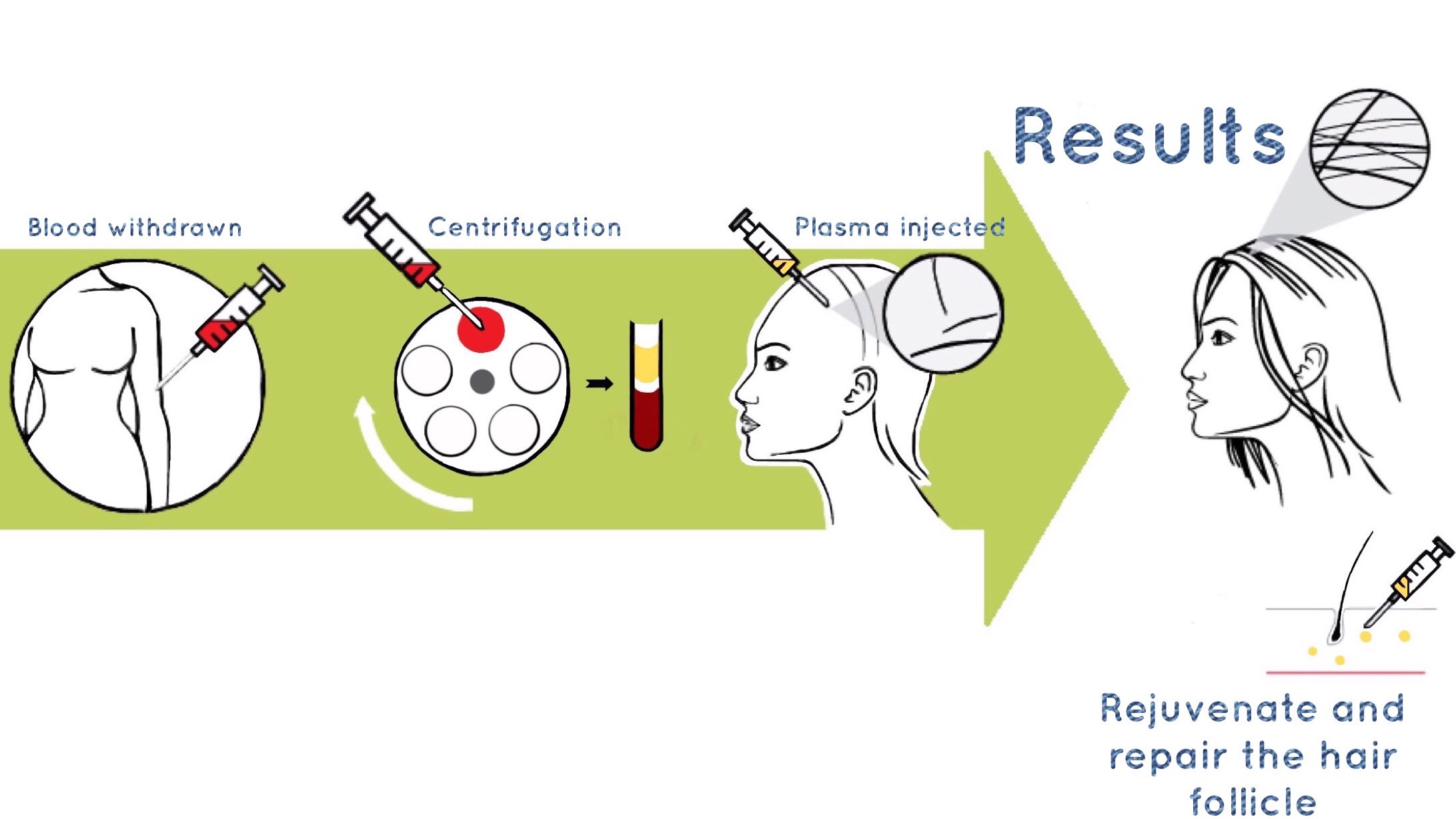 PRP Hair Restoration is simple and proven way of helping improve hair loss . It has no downtime and takes less than one hour per session. PRP usually works best in people who have started noticing their hair thinning in the last 2-3 years.
A sample of your blood is taken and placed in a centrifuge to isolate the platelets. After cleansing your scalp, a numbing cream is applied to your scalp for 30 minutes. Platelet Rich Plasma is injected into the areas of hair loss. This stimulates the base of the follicles, which then begin to grow new, longer, and thicker hair.
The whole process takes less than an hour.
The best results are achieved after a course of 3 treatments spaced 4-6 weeks followed by a booster session 6 months later.
Immediately after your PRP treatment,  you will see swelling and a few  blood spots from the treatment itself, this will gradually subside. There is little change in the first few weeks. 
The platelet stimulation of  growth factors kicks in with the changes occurring in 3-5 weeks after your treatment and  this improvement will continue over the ensuing months.
Results are reduced  with  poor diet , heavy alcohol, tobacco or drug usage which affects the regeneration process to due  poor platelet quality.
Losing Hair? Don't Lose Hope!
After a formal evaluation, we will be able to diagnose the cause of your hair loss and develop a customized treatment plan. You'll be loving your hair again before you know it!
Ask a question about PRP hair restoration