NanoFractional RadioFrequency Skin Resurfacing
NanoFractional radiofrequency skin resurfacing is an advanced, non-surgical treatment that works to improve the overall texture of your skin by creating smoother, healthier skin and reducing signs of skin damage. 
If your face is starting to show fine lines and wrinkles, or you suffer from acne scarring and large pores then a NanoFractional radiofrequency skin resurfacing treatment can provide quick skin rejuvenation. Venus Versa NanoFractional radiofrequency is a cosmetic treatment procedure that might be an ideal choice to give your skin a younger, smoother appearance. You can also use the procedure to refresh your décolletage, back of hands and back.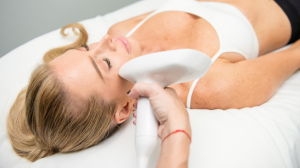 Tiny pins safely deliver heat through the skin's surface, creating tiny micro-dermal wounds, which the body works to heal naturally. This process repairs signs of skin damage, and as the wounds are so tiny, the treatment is much more comfortable than lasers or chemical peels, with minimal downtime.