RadioFrequency (MP2) Skin Tightening
As we get older, our bodies start to produce less collagen and store more fat—this is what eventually leads to wrinkles, sagging, cellulite and other signs of ageing. Sagging skin can be hard to deal with, especially since it cannot be easily targeted with diet and exercise alone.In the past, surgical procedures or injectables have been the go-to solution for skin tightening. Fortunately, that isn't the case anymore.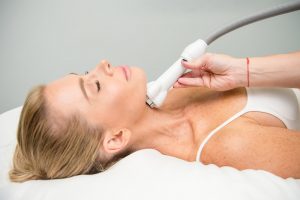 Venus Versa™ Radio Frequency (MP2)  rejuvenates the appearance of skin by safely and comfortably heating the tissue under the skin's surface. This triggers the natural production of collagen and elastin, the key building blocks of healthy, youthful skin. The result is effortlessly tighter, smoother, and younger-looking skin.
Venus Versa™ uses heat to
Diminish fine lines

Diminish wrinkles

Tighten Skin

Improve circulation for natural radiance 

Reshape without surgery or downtime 
Combining Multi-Polar Radio Frequency and Pulsed Electro Magnetic Fields, which produce uniform heat under the skin's surface. The radio frequency causes a thermal reaction in the tissue, which stimulates the body's natural healing response. This works to increase collagen and elastin, which results in tighter, smoother skin. 
This process also works to break down the volume of fat cells in the treatment area, which helps to give a slimmer, more contoured shape.