Meghan's Makeover & The Royal Roadshow
Jeunesse MedSpa® | November 2, 2018 | no responses | Fillers
Meghan's Makeover from Hollywood hottie to royalty is most definitely a real fairytale. Over the last couple of weeks, the Duke and Duchess of Sussex have enthralled the masses with their first official Royal Roadshow as a couple down under! Whether you're a royalist or not, the effect of these young royals is immeasurable. In our crazy world of despair and destruction, they provide an escapism from this harsh reality. Their philanthropic endeavors are definitely noteworthy too.
Even I played hooky to catch a glimpse of this reality fairytale, as they strolled through Government Gardens in Rotorua. What an experience it was – especially when Prince Harry chatted to me, shook my daughter's hand and accepted our wee little gift for their baby. Yes, the bright green bag certainly got his attention.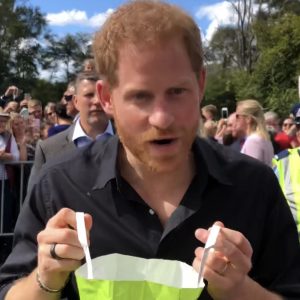 My instinct was to ask him if he lathered himself in broad-spectrum sunscreen and why wasn't he wearing a hat as it was a scorcher of an arvo .., but I resisted! 
We didn't get that up close and personal with Meghan, as she was just across consoling a wee young lass who was sobbing with excitement.  Even from a few meters away she is the no doubt an iconic beauty, stunningly beautiful inside and out.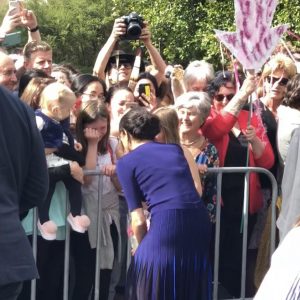 Meghan Markle is the epitome of beauty. Her genetic pooling of mixed ethnicity has her blessed with perfect striking features naturally. I do think she has dabbled with non-surgical cosmetic treatments including teeth-whitening, lasers, fillers and muscle relaxers, and may have also had some nasal surgery resulting in the Meghan's Makeover. Anything that was done was definitely on the conservative side.
I've been a long-term fan of Meghan, well before she became a royal reality influencer. As "Rachel Zane" in Suits, she had me hooked! My medical eye however kept zoning in on her prominent masseters. She would often clench during stressful scenes. I recall saying to my hubby 'she's going to wear her teeth down, I so would love to treat her with muscle relaxers.'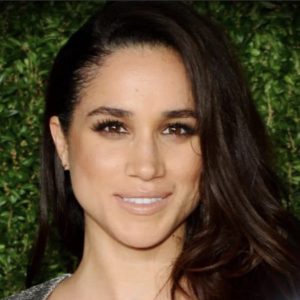 Low and behold she now looks to have had them treated. Strategically placed
wrinkle relaxer injections
into the masseter muscle, softens the muscle,
slimming
prominent jawlines and helps create a more oval facial contour while reducing clenching and
TMJ pain
too.
Her cheeks and tear troughs appear to have been enhanced with minimally invasive techniques using
dermal fillers.
while still maintaining a very natural look.  There's no doubt that she's using great
skin care
and having regular
skin treatments
too!
She was stunning before, but Meghan's Makeover with subtle treatments have improved her overall global facial harmony. Her facial shape is more oval and her eyes, cheeks, nose and lips are even more perfect proportion. Very natural-looking! Best of all her characters trademark freckles have not be touched which ensures she still has her authentic look. Big kudos to her fabulous treatment provider who has done an amazing job!
Bad work screams across the room whereas great work is never noticed!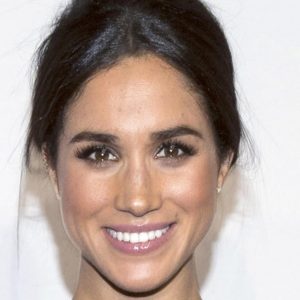 The last few years have seen the growth of social influencers impact of cosmetic treatment. I had a good few patients armed with an image of Kylie Jenner follow the big lip trend. In all honesty, it is not a fantastic representation of what lip treatments can achieve – As in my earlier blog
Kylie
too has realised and had her lips return to a more natural look 
Recently there has been a shift towards people requesting more natural-looking procedures.  Meghan is the biggest influencer of 2018. There is now a thing called "The Meghan Markle Effect" – a new trending desire of women wanting more natural looking aesthetics. A more inconspicuous refreshed look! I'm sure many of them hope they too will find their prince charming! 
The next couple of years will be all about skin rejuvenation, natural looks and achieving a happy and healthy glow. Thank you, Meghan Markle! 
Meghan is super special, even though the critics say she was born into privilege, and now married into even more privilege, being of mixed ethnicity certainly would have put her on the back foot. Speaking first hand — yes no matter what anyone says, as a person of colour and female, you have to work harder in the world to prove your worth! Meghan has undoubtedly proven herself. Not only is she a beautiful woman, but she is also an intelligent, strong and confident woman who can do anything! (This may be restricted now that she's a royal). As a mother of a teenage girl, I feel she's certainly much more of a role model than some of the other influencers in our world today.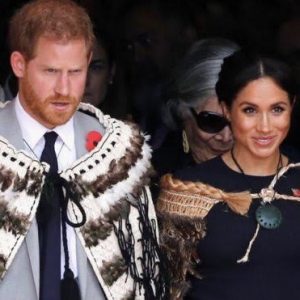 The Reality Royal Fairytale is here to stay, especially with the arrival of a baby next year. I certainly enjoyed my brief encounter with it! What do you think about Meghan's Makeover?
Enjoy this article? Don't forget to share.